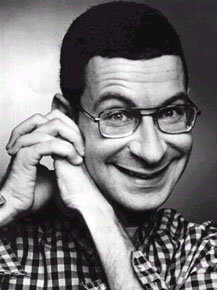 Notable roles:
Laserblast
1978: ...And the world is introduced to the Deez. The template for his lovable, yet vulnerable, nerd is born in this fantastic science fiction romp featuring a really awful, terrible cameo by Roddy McDowell.
Grease
1978: I've never heard of this movie.
I Wanna Hold Your Hand
1978: I think of only one thing when 1978 comes to mind, and that is the term "Deez-mania." This was an Oscar winning Beatles based comedy from the director that brought you such classcs as Used Cars and Death Becomes Her. Deezen plays the drummer of the Beatles, Richard "Ringo" Klaus.

1941
1979: Again, I don't know what this movie is.
Midnight Madness
1980: Perhaps the greatest statement on college ever put on celluloid, Disney's live action caper "Midnight Madmen" brings to life cartoon character Micheal "J." Fox and reunites him once again with America's Eddie Deezen.
Zapped
1980: I don't remember who Eddie plays in this, but it is a really good movie.
WarGames
1983: Pictured above - Eddie as "Malvin" in Wargames, explaining to Mathew Broderick how to break into the military computer system. Dabney Coleman won BEST MAN in the Awards for this one.
Surf II
1984: Edward plays a downright nasty funky dirty "Menlo Schwartzer." A criminal mastermind that wants to rid the world of man's greatest enemy: Surfers. ***** stars
Eddie Deezen died in 1985 at the age of 43.
R.I.P.